Local
"In year two [of the pandemic], we're still seeing a great need."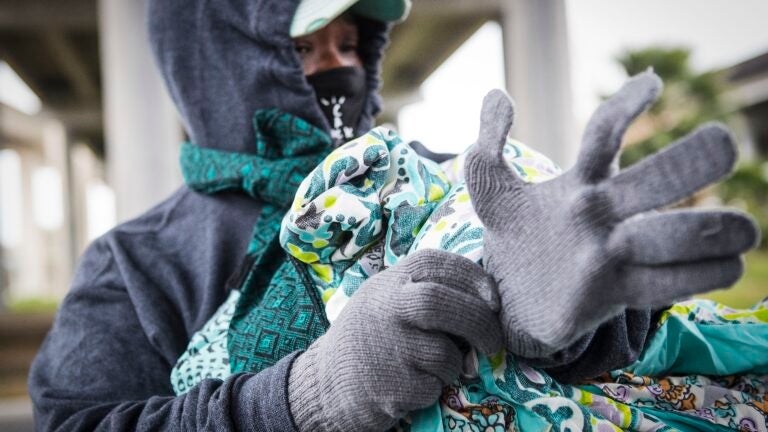 Winter in Boston this year has so far been mild, with residents seeing highs of 60 degrees well into December. Despite the couple degrees of warmth, however, winter still remains a brutal season on the East Coast.
Paired with the rise of omicron and rapid increase in COVID-19 cases just before the holidays, many are turning to shelters and organizations for support, from rental assistance to food and clothing, according to Action for Boston Community Development (ABCD). 
"In year two [of the pandemic], we're still seeing a great need," Sharon Scott-Chandler, executive vice president at ABCD, said. "Those people who are not back to their employment and whose pandemic unemployment ran out, because a lot of people relied on that extra money, they're finding themselves even in more need now because they don't have that extra paycheck."
In order to combat the winter season, organizations like ABCD are holding winter clothing drives, collecting new or gently used warm clothing from residents in Boston that can then be distributed to communities in the city that are in need. 
Below are some organizations in the Boston area that are accepting winter clothing donations: 
ABCD is holding a coat drive for the winter months of Boston. Items accepted include winter coats, scarves, boots, gloves, mittens, hats, and other articles of clothing that can help a person in the cold. Clothing geared toward adults and larger sizes are appreciated, according to Scott-Chandler. 
Items can be delivered to ABCD locations in Boston, including those in Jamaica Plain, Mission Hill, and Downtown. 
St. Francis House has resumed accepting clothing donations after a hiatus due to COVID-19. Items accepted include footwear, jackets (water resistant/waterproof), hoodies, long-sleeved tops, sweaters, jeans and leggings, belts, backpacks, thermals, knit hats, and business casual clothing.
Located at 39 Boylston St., Boston, MA
Rosie's Place, a female-only shelter, is collecting items for the holiday season to give gifts to approximately 1,000 guests. Items they are accepting include warm hats, scarf and glove sets, slippers and bathrobes, pajama sets, and throws and blankets. 
Located at 889 Harrison Ave., Boston, MA
Clothing donations that are given to the organization, Catie's Closet, are provided to children and teenagers. Items accepted include new and gently used clothing for most child sizes, tops, bottoms, new full-sized toiletries, new socks, undergarments, and shoes. 
Located at 63 Sprague St., Boston, MA
This organization that helps children in need is also looking for new or like-new clothing donations in the size range of birth through age 12. Items accepted include winter coats and jackets, new and reusable face masks, new pajamas, new socks and underwear, shoes, boots and sneakers, books, new arts and crafts supplies, and unopened diapers. 
Donations can be left in the outdoor donation bins at various locations. 
Newsletter Signup
Stay up to date on all the latest news from Boston.com