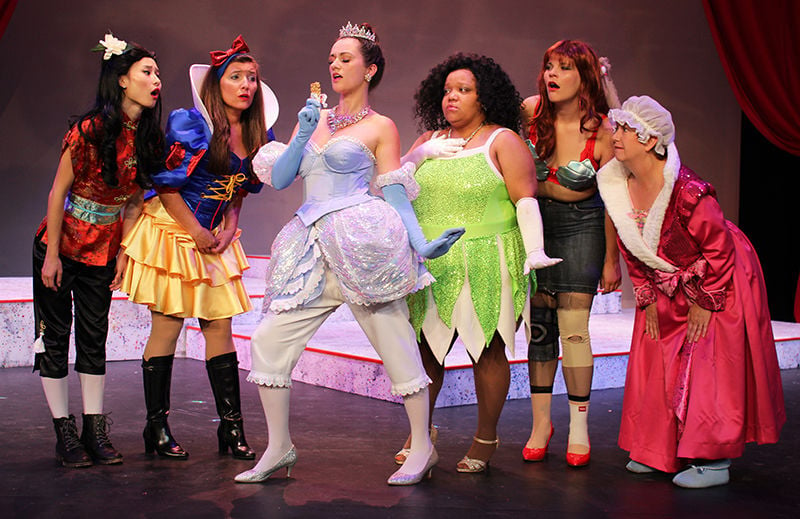 Princesses will protest their popular personas and set the record straight on happily-ever-after in "Disenchanted!," an adult comedy musical making its debut this weekend at Circa '21 Dinner Playhouse.
The PG-15-rated show will run from Sept. 17 to Nov. 6 at Circa '21, 1828 3rd Ave., Rock Island. Performances are scheduled for 7:45 p.m. Wednesdays, Fridays and Saturdays, 5:45 p.m. on Sundays and 1:30 p.m. matinees on Wednesdays. 
In this not-for-kids comedic production, Snow White isn't so sweet, Cinderella isn't so smart and Sleeping Beauty has a sudden sleeping condition. They're joined by a posse of princesses on a night of rebellion while they try to show the world who they really are.
The show is directed by St. Ambrose University theater professor Corinne Johnson, and the cast is a mix of Circa '21 newcomers and veterans.
Tickets cost $56.55 for evening dinner-and-shows and $49.73 for plated-lunch matinees. Those wishing to purchase tickets can call the Circa '21 box office at 309-786-7733, ext. 2. 
Circa '21 Director of Audience Development Brett Hitchcock said the musical had sexual innuendo and some adult language, hence the more adult rating. The theater rates each of its shows so families can decide if they're appropriate or not. 
No one was surprised at the mature aspects of the show during its first preview performance on Wednesday, he said, and it was very well-received. Audiences won't see anything that wouldn't run on network television.