Roll up, roll up! For AW21, Loewe is cancelled. At least that's the headline in thousands of newspapers that the Spanish house has printed and circulated today in the weekend editions of broadsheets around the world. A specially-produced Loewe newspaper is tucked into the Le Figaro, The New York Times, Le Monde et al with the headline 'THE LOEWE SHOW HAS BEEN CANCELLED' splashed across its front page. By now it will have reached millions of unsuspecting readers. And therein lies the genius of Jonathan Anderson. He's fashion's Cassandra; the well-dressed woman's Warhol. For the last year he's come up with inventive alternatives to physical fashion shows, and in doing so has broadened the appeal of them, transforming them from industry-insider events that make an fleeting splash on timelines into enjoy-at-home physical artefacts, symbolic tokens of the seismic changes we've experienced during lockdown. Jonathan encapsulates Marshall McLuhan's mantra that the medium is the message. And in his view, the fashion show is cancelled — in every sense of the word.
"What I like about the idea of a newspaper is that sometimes we are so fixated, as a society, with the headline — but not what the headline means," Jonathan explains. "Ultimately, what we have shielded away from in fashion is that this situation is cancelled. We are adapting to it, and the idea that we are going to consume ourselves with the idea of a digital reality is not a long-term solution."
It's interesting that Jonathan chose the word "cancelled" which in and of itself has been a cultural phenomenon of its own. "Cancel culture" has been a term that has divided generations and political ideologies. Even more interestingly, he chose the format of a newspaper, which is either a vital source of truth or something to be deeply distrusted, depending on who you ask. Nowadays, newspapers seem like relics of the past — even if they are records of the now. "Does anyone still wear a hat?" sang Elaine Stritch. Today, does anyone still read an actual paper? Of course Jonathan does, as he is all about tactility. "Sometimes when I'm reading one it ends up turning into a ball and I enjoy that," he jokes. "I like to get away from the digital screen, especially in the morning, because it makes you wake up slowly."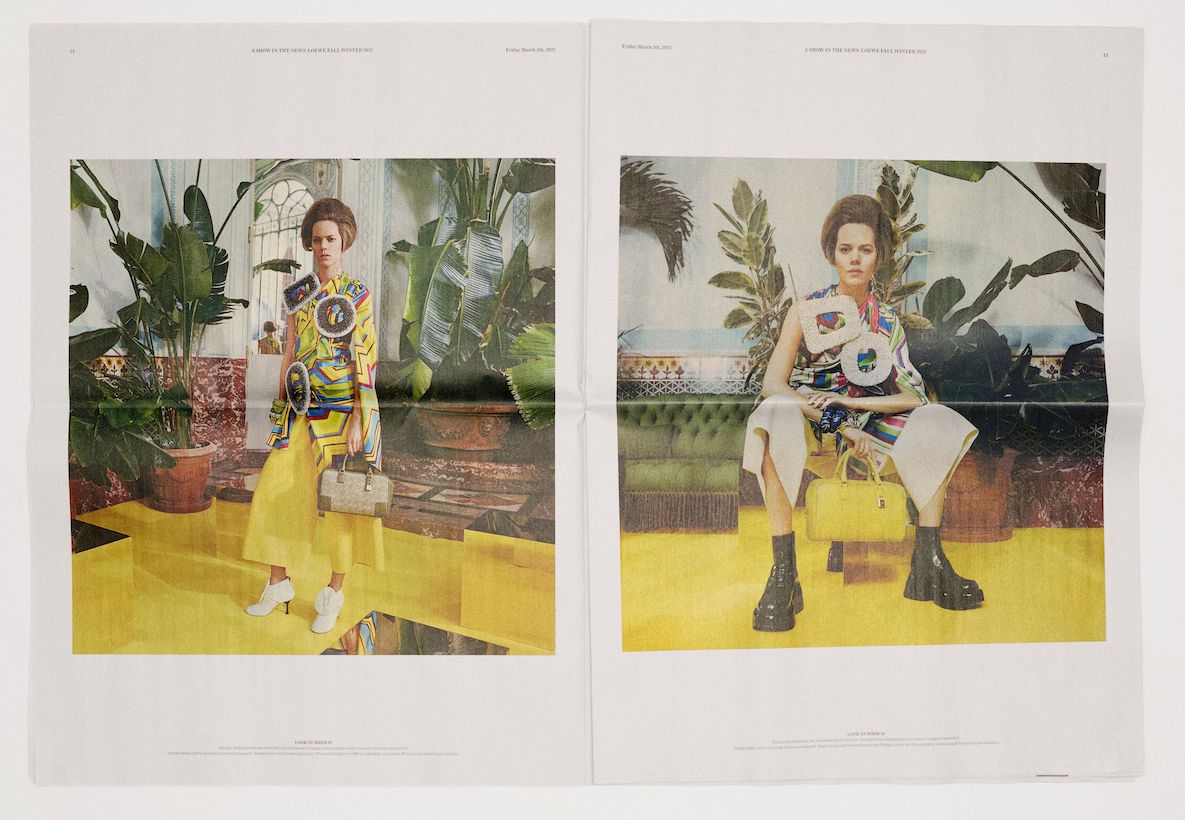 "News" also implies new. Fittingly, Jonathan also published excerpts from Danielle Steel's brand-new novel, The Affair, which centres on a heroine who is the editor of a fictional fashion magazine. For those who may not know, Danielle is the queen of romance lit and is the world's bestselling author (800 million copies and counting), publishing approximately six steamy books a year — almost as many collections as Jonathan designs annually.
"I like that she is so prolific," says the designer. "There's something in that idea of 'mass' that I think is incredibly intriguing. In fashion, we have rejected the idea of mass information or mass consumerism. We want it to go to one group of people — the fashion show is tailored to that idea — and sometimes that can be an echo chamber." Of course, a newspaper is about as mass as it gets, as are Danielle Steel's books. But the choice is an apt one as fashion documentaries, movies like The Devil Wears Prada and TV shows like Emily in Paris have widened the public perception of an industry that was previously considered a niche interest. Jonathan is playing with all kinds of mass ideas about what fashion is, and who it could — and should — speak to.
Once upon a time, Jonathan may have offered up an independent film as a reference to his collections. You know, more MUBI than, say, Netflix. Right now, he's all about mass — it was the word he repeats again and again during our interview. He also quips that "TV series are the new film", adding that their power is that it makes you keep watching, even if you're tired, almost like a drug. "And the news is the biggest TV series of all," he adds.
Ultimately, Jonathan is searching for a connection with an audience, instead of just entertaining them with the glossy veneer of exclusivity — which is what many fashion houses have bet on by simply staging online catwalk shows without audiences. "I don't know Emily," Jonathan says with an air of Mariah Carey. "I watch that series to pass the time, but I don't know her. Whereas, the fashion show being turned into a digital format of a show, it is a barrier to the reality of how you see the garment. Ultimately, you are trapped with entertainment but how do you get the reality of it?"
His answer is by doing projects like this, which don't require an exclusive guest list of editors and VIPs. "We need to add the other layer of giving more away," he continues. "It's about the video explaining what you're trying to do, printing something to go with it, getting the tactile quality, so that it doesn't just evaporate into a digital void. I'm in Paris right now and it is empty, this is not fashion week."
His collection could have fooled us. Mass? Hell no. It's as capital-F fashion as it gets, perhaps as a gateway for Loewe's new mass audience. At this point, you don't need an editor to tell you about it — you can watch Jonathan talk about it himself on YouTube, but here's my take anyway. This is a collection that is brimming with everything a fashion pundit salivates over: colour, shape, silhouette, texture. There are acrylic hues in graphic compositions and abstract silhouettes that define attention, much like sensational headlines. There's juxtapositions of curves and linear angles; electric hues and muted neutrals; there's fringed and tasselled hems and sharply sculptural tailoring; long, lean trousers and crazy puffed sleeves. It has everything, all in perfect harmony. Everything for everyone. Mass, perhaps. And yet it satisfies the true fashion junkies — it's Freja Freakin' Erichsen modelling, her bouffant coiffed by Guido and her face painted by Pat 'Mother' McGrath, photographed at Le Train Bleu, the restaurant in the hall of the Gare de Lyon in Paris, the fashion cognoscenti's go-to for a steak frites before boarding the Eurostar.
You've gotta give to him. Jonathan is a designer that is not just surviving, but thriving in these strange times. "This is the most exciting moment for creative people, especially in fashion, because there is only opportunity," he asserts. "It is a level playing field — you could be the biggest or smallest. I can see it with younger people, and people around me. People are desperate to have a tactile relationship with the world."
He's smart, he realises that if you can sustain people's attention during lockdown, then you're a priority come the end of it. "Whatever was happening before, if it is not good, it will not survive," he theorises. And he's not looking back. "I think it is better that fashion crashes and that fashion week doesn't exist because then it can rebirth itself from the ashes of something," he says. Welcome to Loewe's brave new world.