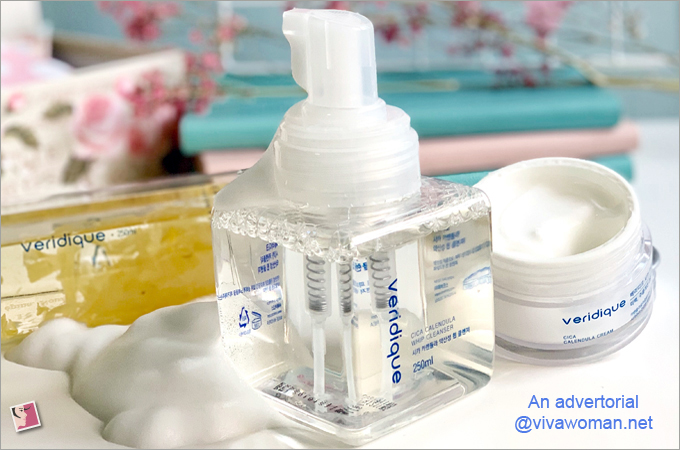 I'm so impressed with the products I've tried from Veridique. This is a relatively new K-beauty brand that is clean and natural. I'm currently using three of their products and they are all extremely gentle and works well for any skin type, even those with sensitive skin. And the best part? The products are all incredibly wallet-friendly.
But I'm kinda surprised that this brand seems to be under the K-beauty radar for now. I can't find a lot of information about the product in English online. The most prominent is that they've got A Pink's Chorong to endorse the brand.
So why am I so enamored with this brand?
Veridique is one of the rare clean Korean brands formulated without paraben, sulfates, phthalates, artificial fragrances, toxic chemical. Many Korean brands call themselves natural but Veridique amps up their game by creating their products with EWG green grade ingredients that are hypoallergenic and tested for delicate skin. But we're not talking about products that are just gentle and skin soothing. This range of Veridique skin care are made with two winning ingredients.
Winning ingredients that are more than skin friendly
One being cica or centella asiatica, a great skin ingredient which some of you have probably spotted in your K-beauty products. Mostly known to calm inflammation, redness, and irritated skin, cica is also chock-full of amino acids, beta-carotene, fatty acids, and phytochemicals, including vitamins C, A, B1, and B2 that help stimulate collagen production.
So we're not talking but just a sensitive skin friendly ingredient that soothes, cica is also great for anyone looking to firm, repair, or even combat breakouts.
Second being calendula, which is another superb botanical ingredient that comes from the common marigold. It is widely known as an antiseptic that promotes wound healing while reducing inflammation as well as its ability to increase skin hydration. But not many people know that calendula also has the ability to protect the skin against UV rays.
So put together, cica calendula is a winning combination. That's not all. Some of their products are made with my favorite ingredient, niacinamide, which is great to manage acne, rosacea, pigmentation, and more. Awesome much?
Now, let me tell you more about the three items I've been sent to try.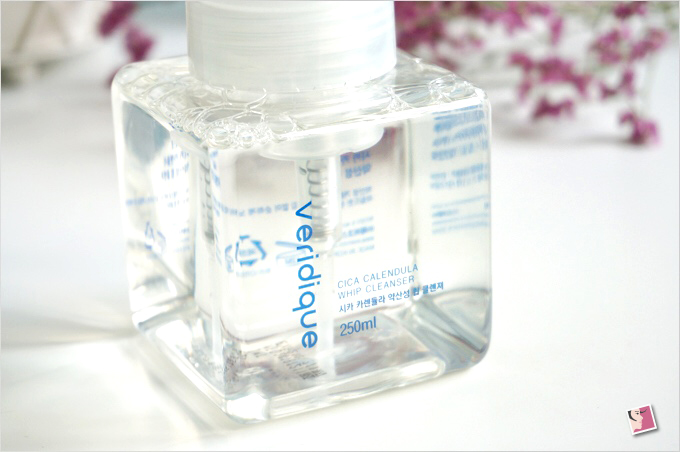 Veridique Cica Calendula Whip Cleanser 250ml | S$19.90
This is a perfect pH balanced micro-bubble foam cleanser that can remove dirt and impurities, yet still gentle on the skin without stripping away the natural lipids.
Some of you may remember that I've stopped using foam cleansers because I find them drying for my skin no matter how gentle they claim to be. But when I gave the Veridique Cica Calendula Whip Cleanser a go, I was pleasantly surprised by how gentle this foam cleanser is.
I didn't feel the usual tightness nor was my face dry. Instead, my skin felt soft and supple. No wonder it's described as a gentle cleanser suitable for dry and sensitive skin.
Here's the full ingredient list:
Water, Glycerin, Lauryl Betaine, Propanediol, Potassium Cocoyl Glycinate, Glyceryl Glucoside, Sorbitol, Hexyene Glycol, Octyldodeceeth-16, Calendula Officinalis Flower Extract(9,795ppm), 1,2-Hexanediol, Hydroxyace tophenone, Citric Acid, Panthenol, Lavandula Hybrid Oil, Centella Asiatica Extract, Citrus Aurantium Bergamia(Bergamot) Fruit Oil, Butylene Glycol, Glucose, Sodinum Citrate, Eucalyptus Globulus Leaf Oil, Camellia Sinensis Leaf Extract, Pogostemon Cabin Oil, Rosmrinus Officinalis(Rosemary) Leaf Oil, Saponaria Officinalis Leaf Extract, Salvia Officinlis(Sage) Oil, Ethylhexylglycerin, Enteromoressa Extract, Laminria Japonica Extract, Spirulina Platensis Extract, Gelidium Cartilaggineum Extract, Undaria Pinnatifida Extract
I'm unlikely to purchase this item for myself but I have to concede this is a one cleanser with a winning formula. I had my 16-year-old teen use this cleanser and it is working well to help ease his acne somewhat. So this cleanser is not only gentle, it can work well for someone with acne prone skin too.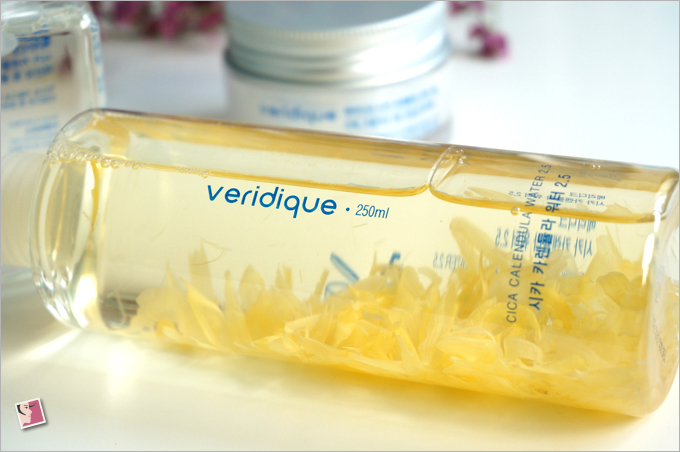 Veridique Cica Calendula Water Toner 250ml | S$22.90
This is my favorite of the three items. It's an alcohol-free toner that's packed with 92 percent calendula flower extract as well as full of antiaging and skin brightening ingredients like adenosine & niacinamide.
Here's the full ingredient list:
Calendula Officinalis Flower Extract(92%), Butylene Glycol, Niacinamide, 1,2-Hexanediol, Pentylene Glycol, Hydroxyacetophenone, Calendual Officinalis Flower, Aloe Barbadensis Leaf Juice, Centella Asiatica Extract, Allantoin, Ethylhexylglycerin, Adenosine, Disodium EDTA, Tromethamine.
The texture is watery but when applied on the skin, provides intense hydration. What I like about it is that it's so affordable! The only calendula toner I've tried is from Kiehl's but it's not even in the clean category and the price is almost 3x more! That's why I would highly recommend Veridique Cica Calendula Water Toner because it really delivers as promise and it's price is on point.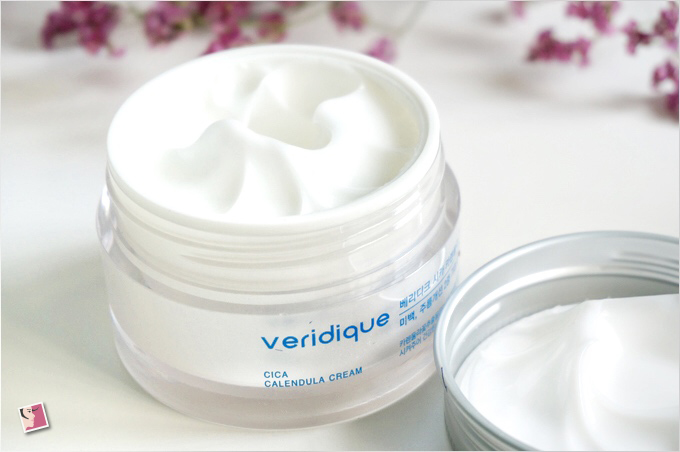 Veridique Cica Calendula Cream 50g | S$19.90
This year, I've taken to using more moisturizers and this is one of the creams I recommended to my colleagues who were looking for something effective but affordable.
If you have sensitive skin, you will love this because it's fragrance-free, non-irritating and contains 65 percent calendula flower extract. A great moisturizer with a creamy but fluffy and light texture that's perfect for moisturizing the skin without leaving the skin excessively oily or greasy.
Here's the full ingredient list:
Calendula Officinalis Flower Extract(65%), Glycerin, Tridecyl Trimellitate, Propanediol, Pentaerythrityl Tetraethylhexanoate, Hydrogenated Polydecene, 1,2-Hexanediol, Niacinamide, Polyglyceryl-3 Methylglucose Distearate, Squalane, Cetyl Alcohol, Sorbitan stearate, Hydroxyacetophenone, Hydroxyethyl Acrylate/Sodium Acryloyldimethyl Taurate Copolymer, Acrylates/C10-30 Alkyl Acrylate Crosspolymer, Butylene Glycol, Water, Tromethamine, Centella asiatica extract, Adenosine, Ethylhexylglycerin, Disodium EDTA, Glycyrrhiza Glabra (Licorice) Root Extract, Chamomilla Recutita (Matricaria) Flower Extract, Glycine Soja (Soybean) sprout Extract, Portulaca Oleracea Extract.
I like this as a daily moisturizer because it does what it promises and it's so affordable.
Availability
I am really loving this range of Veridique Cica Calendula products. I'm not saying it because this is an advertorial. I think many of you who read my blog know I'm not one who raves unnecessarily. I was intrigued when I was approached to try their range but I didn't think much about them till I started on them. Once I did, I was so grateful for the opportunity to use them.
It's very rare to come across a clean K-beauty brand and it's one with great ingredients and an affordable price tag to boot. I even started introducing them to some of my colleagues. There aren't many reviews out yet but you can run a search on their ingredients and you'll know they're truly meeting the EWG green grade.
So if you're looking for a clean and affordable range of K-beauty products, do check out Veridique. Currently, they're available at Rezen, an online store that is retailing on Qoo10 (click through to visit the store). International shipping is available for those outside Singapore.