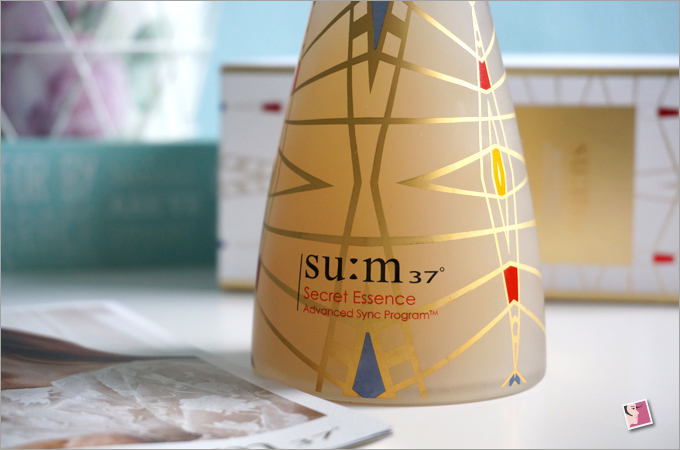 Sometime at the end of last year, I finished a 230ml bottle of Su:M37° Secret Essence Advanced Sync Program. It was a limited edition and I'd paid quite a bit for that bottle. I used it once in the morning every day and it lasted me almost a year!
I didn't fall in love with this product immediately but as I continued to use, I was happy with its performance and so now that I've finished the bottle, I'm thinking of repurchasing it.
Premium Korean skin care range
Su:M37° is pronounced as "soom 37". We're talking about a premium Korean skin care range that's definitely not wallet-friendly. But there's a good reason: This range uses a natural fermentation process to extract concentrated goodness from a whooping 80 types of seasonal plants for at least a year!
And even more interesting is that only the beneficial ingredients are filtered out at an optimal temperature of 37°C to create Cytosis®, the essence of SU:M37° in all its products.
Because of this unique formulation process, the products under the range are free of fragrances, artificial colors and synthetic preservatives. They are also said to be hypoallergenic and safe for most skin types.
Better than SK-II Facial Treatment Essence?
Su:M37° Secret Essence Advanced Sync Program is the bestseller in the Su:M37° series of products. I was reminded of SK-II Facial Treatment Essence when I first stumbled upon Su:M37° Secret Essence. I suppose it's because both products are formulated with ingredients derived from the process of fermentation.
Su:M37° Secret Essence comes with Cytosis® derived from natural fermentation while SK-II Facial Treatment Essence is formulated with PITERA™, a natural bio-ingredient derived from yeast fermentation.
Another similarity is that both are pricey with Su:M37° Secret Essence on the lower range.
However, they're not really the same when it comes to product consistency nor usage.
Su:M37° Secret Essence feels thick and takes awhile to sink into the skin than SK-II Facial Treatment Essence which feels more like a toner that gets absorb quickly. That's why they can't really replace each other. In fact, I've read that some ladies use Su:M37° Secret Essence over SK-II Facial Treatment Essence. Very lavish IMO.
Difference ways to use Su:M37° Secret Essence
For those of us who can't afford that combination, I'd suggest using Su:M37° Secret Essence over a normal toner instead. Any toner will suffice but if you prefer, pick a Korean brand like I did with Pyunkang Yul. But there were days I used Su:M37° Secret Essence with Aromatica Rose Absolute First Serum (which I absolutely love). The combination is a bit luxe but it's still not as lavish as with the SK-II combo.
I also know of women who applied the 7-skin method using Su:M37° Secret Essence. For those who have not heard, the 7-skin method is to apply a toner or serum 7 times. This is a K-beauty tip to improve hydration and minimize products in your skin care routine.
Personally I find this method lavish as well when it comes to using Su:M37° Secret Essence. If I'd tried this method, the essence would probably have only lasted me only 3 months. What I did try occasionally was to use the 3-skin approach and that is, to apply the essence 3 times.
As to how you do this skin method is simple. Just apply the essence once, and before it's fully absorbed, apply the next layer and so on for 3 times or 7 times if you wish.
Anyway, I just wanted to present you with the different ways to use Su:M37° Secret Essence. If you do get this product, you'll be able to use it more than one way.
My experience with Su:M37° Secret Essence
So why do I enjoy Su:M37° Secret Essence so much that I'm considering to repurchase it despite its steep price point?
I love it for its hydrating and nourishing properties. I definitely experienced improve hydration gradually over time. My skin was feeling less oily in the day when I used this product and the difference is even more apparent when I stopped using it now.
In addition, this essence is so lightweight that it works extremely well with my other skin care products. I can absolutely slather a moisturizer or sunscreen over without having my skin feeling heavy or sticky.
Some ladies have said they experienced a brightening effect with this essence but I didn't notice a difference. I'm sure having the skin more hydrated helped to improve radiance but I didn't see any brightening effects.
Su:M37° Secret Essence comes with a long list of ingredients. But its key ingredients are Cytosis with a blend of Niacinamide and Ferulic Acid. On top of being hydrating, this essence has antioxidant properties, making it a great product for anti-aging. I have to concede that every application makes my skin soft and smooth.
An added bonus is that it smells great…a slight citrus scent with a hint of lavender so it's very enjoyable to use.
Price and availability
While I love this product, I wouldn't say this is a must-buy especially given the rather high price point. It's more of a good to get if you have extra budget and you're looking for a new Korean product to try.
If I remember correctly, I paid over S$200 for the limited edition of Su:M37° Secret Essence Advanced Sync Program at Tangs. What's available usually is their 80ml bottle retailing at S$108 in Tangs. I believe you can get it for cheaper online but I just want to add that you should check the source of your purchase to prevent issues of counterfeit products and inappropriate storage under our humid conditions.
My experience with buying cosmetics from online stores (a big one that runs frequent promo at that) is that some of them do not know how to store natural and organic skin care products. I've had an instance where a cleanser came smelling rancid even before I began using it! So if you do purchase this online, do check your source and ensure they're reliable in storing and handling cosmetics.
Anyone tried Su:M37° Secret Essence Advanced Sync Program? Do share your thoughts if you have.
---
Product highlighted was purchased and this review is in line with my disclosure policy.
Su:M37 Secret Essence Advanced Sync Program
S$108
Pros
Hydrating
Works well with other products
Smells great