Price: $19.49
What it does: Repairs, hydrates, replenishes
Feeling: Non-greasy
Non-comedogenic: Yes
Fragrance-free: Yes
Cruelty-free: No
Recyclable packaging: Yes
Safe for sensitive skin: Yes
As a beauty editor, I try a bunch of skincare products and read about more than I care to remember, all promising to deliver that and that. And I'm telling you, few come close to the fame CeraVe Moisturizing Cream enjoys, so I decided to try (and review) this guy with the sole purpose of addressing my winter-related leg dryness. It didn't take me long to fall in love with the formula and now I'm using it from head to toe whenever I want to give my skin an extra TLC.
What is it?
CeraVe Moisturizing Cream is a rich cream that aids to provide long-lasting hydration and soften the skin with a complex of barrier-strengthening and moisturizing ingredients. It can be used on the whole body and it's ideal for anyone experiencing dryness, flakiness, and roughness.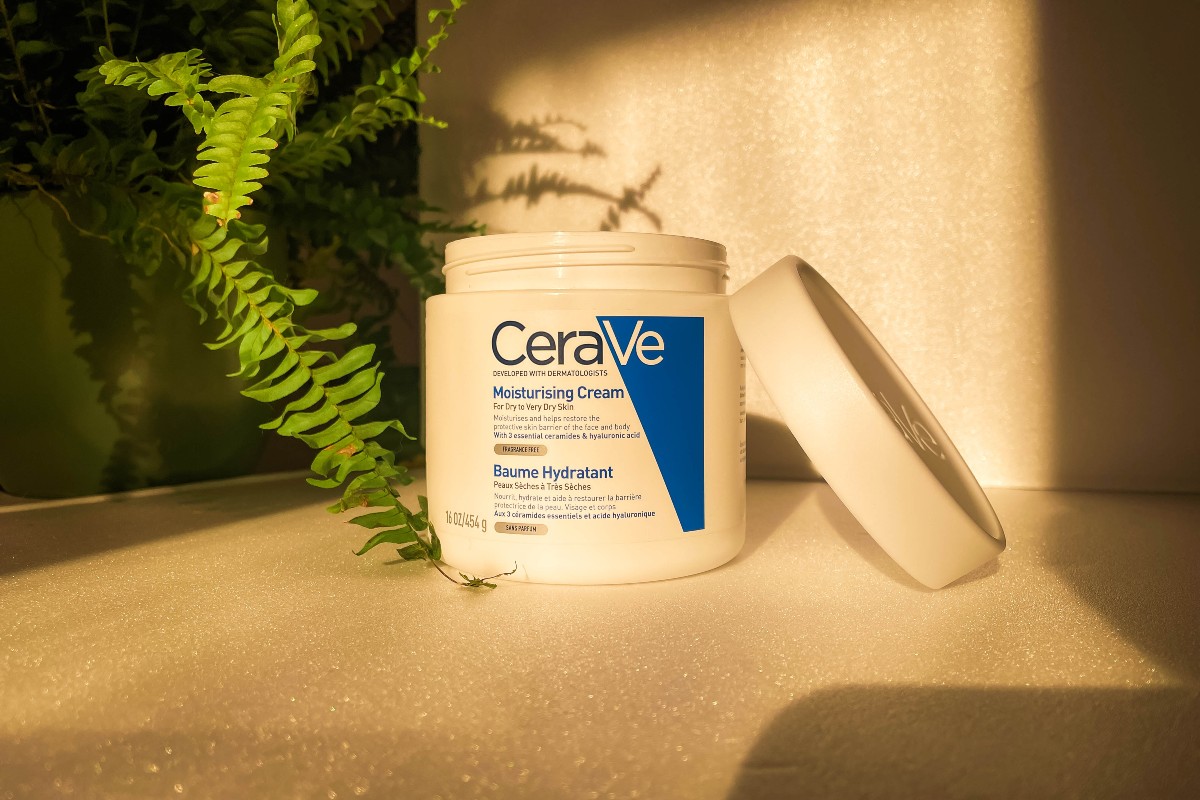 About the formula
A blend of three encapsulated ceramides released slowly to support repair long after you've finished applying makes CeraVe Moisturizing Cream incredibly good at restoring skin and relieving dryness. Due to their ability to strengthen the protective barrier, ceramides are great at increasing moisture retention, a common concern of dehydrated skin. Their reinforcing benefits are also backed by cholesterol, which has a key role in supporting moisture and balancing lipids in the skin, fortifying the protective barrier some more. Additionally, the formula boasts two of the most potent humectants — glycerin and sodium hyaluronate — both of which give the cream hydrating and plumping benefits.
Finally, CeraVe Moisturizing Cream loads vitamin E, which has an emollient role, while phytosphingosine (a type of fat naturally found in the skin) improves the skin's ability to stay hydrated and firm.
I love that the formula skips drying alcohol and fragrances, two potential irritants that may strip the skin of essential moisture.
Texture and consistency
CeraVe Moisturizing Cream has a rich yet lightweight consistency that feels intensely moisturizing. Yet, the texture is non-greasy and gets absorbed into the skin as applied without leaving any sticky, tacky residue behind.
My experience
In the winter, my lower legs tend to dry out, so I purchased this cream with the hope that it'll help me out of this. And it did. I rigorously apply it on damp skin all over the body every time after shower, and I love the instant moisturizing sensation that never feels oily or sits on the skin. It has been about two months since I've been using it (oh, it lasts a lot), and my skin doesn't crack or dry out anymore. Because the formula is non-comedogenic, I sometimes apply it on the face, too — it immediately gives that soothing feeling without the heaviness, and it actually makes a great primer, too. Face or body, this cream feels incredibly effective.
Final thoughts
In my opinion, CeraVe Moisturizing Cream is definitely worth a shot, regardless if your skin is parched or you want to prevent dehydration. While it works to soothe and repair cracked, dry skin and alleviate conditions like eczema, CeraVe Moisturizing Cream suits even reactive or breakout-prone skin. Plus, it has an unbeatable price ($19.49 for 16oz), so, really, there's no reason not to try this godsent cream out.
I'm not the only one who loves CeraVe Moisturizing Cream. The cream has raked in thousands of Amazon reviews and more than 100.000 reviewers have given it a full 5-star rating (that's the first of this kind, really). "If you are approaching a certain age and suddenly you cannot seem to apply enough cream to soothe your skin, this is for you," said the most voted review on Amazon. Another one said, "if you're looking for actual soft, silky, and glowing-looking skin then look no further, you have found it with CeraVe Moisturizing Cream." I can go like that for a whole week, but I won't because I know you got the idea.
You can buy this holy grail of moisturizing creams for $19.49 from CeraVe, Amazon, or Ulta.