Sometimes, there are shows that restore your faith in fashion. Often, they happen in Paris. What makes a fashion show a fashion moment? Timing, usually. Given that this is the season for rebirth and for designers to grapple with the then-and-now, it feels like an opportune moment for them to reset and perhaps even reconsider their usual style. Yet not many have, instead retreating into what they know, and what people know them for. Not Jonathan Anderson. This morning, as the first autumn chill swept through Paris, something was in the air as he radically refreshed his vision for Loewe. You could call it winds of change. 
Held in a vast lime-washed pine hall, it was bare but for rectangular hole in the middle of the room from which the first models emerged headfirst with geometric shapes protruding out of their sinuous long knit dresses, almost like alien creatures emerging from a subterranean cave or eco-spaceship. A metaphor perhaps, but Jonathan said it was akin to a "blank piece of paper" – he didn't want anything to distract from the "neurotic, psychedelic, and completely hysterical" clothes he sent up from below. "The starting point came from thinking, 'What is the purpose of a show? Why do we do them?'" Jonathan said after the show. "This is a very fashion show and I wanted to open up new dimensions and chart new territory of where you can go and how craft can be interpreted."
Refusing to be pigeon-holed and demanding to be seen in movement, here were off-kilter ideas and genuinely inventive clothes that makes a lot of what we've seen on the Paris catwalks look boring at best, outmoded at worst. Not that many of us will be wearing 'fashion' metal breastplates, Dune-style drapes and winged manga costumes (albeit very fash-un ones) any time soon, but it was the freewheeling ideas that mattered. You could tell Jonathan and his team really went for the experimentation; clothes not just for wearing, but for thinking about. In turn, it's what makes you want a teddy-textured bag or pair of compostable-plastic trainers — they represent the boldness of Loewe as a directional fashion house.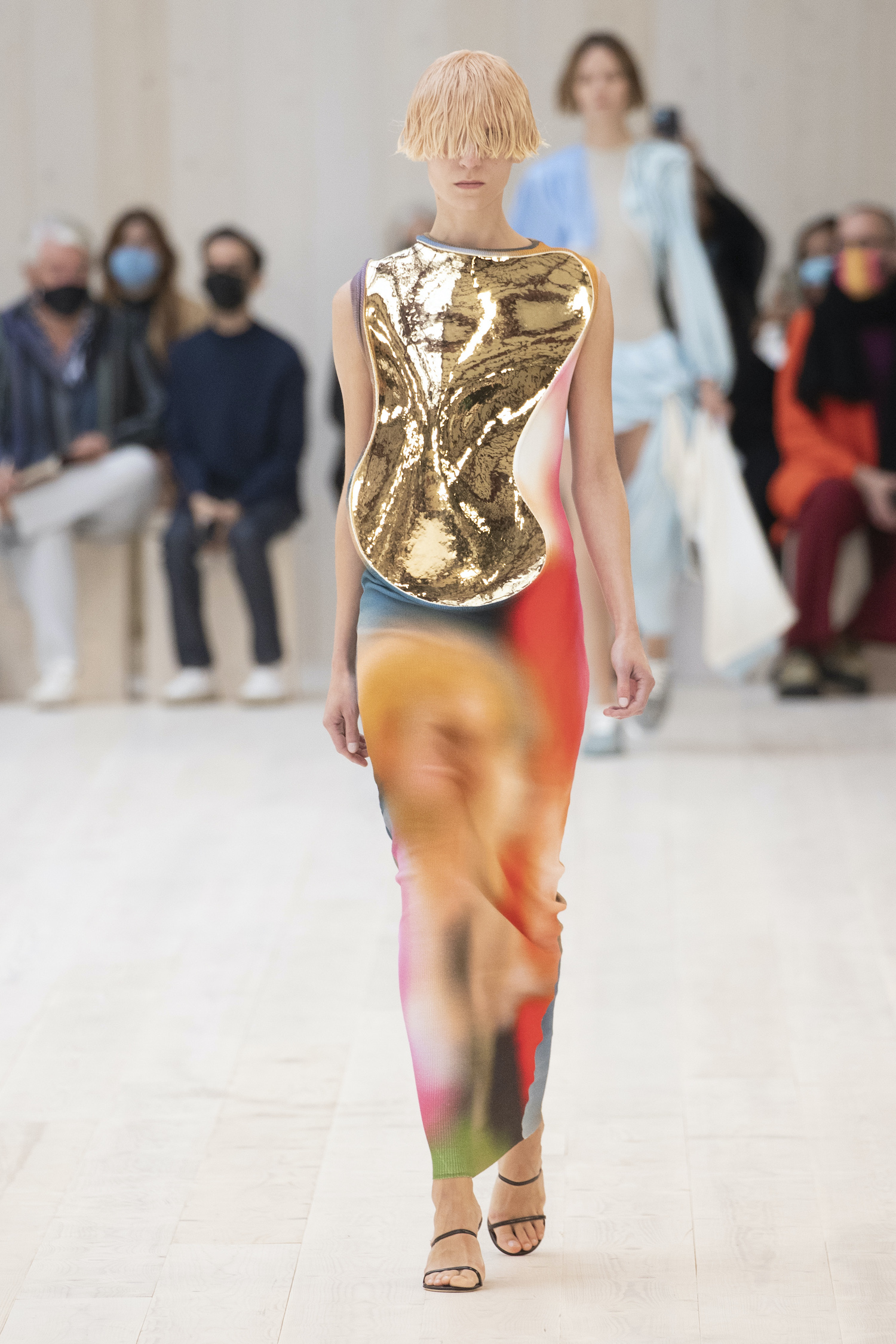 "I feel like the idea of doing a show now is some sort of odd form of a surrealist act, almost a neurotic act, because everything is normal — but it isn't really," Jonathan explained. "I didn't want something completely grounded in reality. It had to have a distance."
The collection brought to mind Rei Kawakubo's radical 'Lumps and Bumps' Comme des Garçons SS97 show, one of the most exquisite instances of true experimentation on the Paris catwalks. At the time, Rei was cryptically dismissing the sculpted bodies and hyper-glossy aspiration of fashion at the time (think Tom Ford's Gucci). This time round, Jonathan seems to be doing the same – or at least, the timing of his show is eerily prescient. Just as other designers strip back clothes to miniscule proportions, herald the Return of Sexy, and brazenly display skin – he did the opposite by distorting and shaping the body through clothes, and challenging our very notions of normality and reality. 
Hence, Dadaist artworks by Marcel Duchamp were clearly an influence — we're living in surreal times, after all. Jonathan was thinking about the idea of the 'readymade' object and so he applied to them stiletto heels — remember those? — with red roses, bars of soap, birthday candles, bottles of nail polish and cracked eggs replacing the heel. They echoed the spirit of Elsa Schiaparelli, who once made shoes to resemble meat. But here, it was almost as if the girls were repurposing the objects they'd spent months and months at home with and stepping out in the real world. Sure, Jonathan's ready-to-wear for Loewe has always erred on the side of the esoteric and conceptual, but here was a perfect harmony of that and eminently desirable clothes, like the sequinned dresses with flamenco leg holes, a gown draped from sugared-almond chiffon, and blouson taffeta bombers worn with strident wide-leg trousers. There was even denim, for crying out loud, albeit masterfully reconfigured as caped jackets and skirts with satin bubbles. 
Perhaps 'reset' isn't quite the right word. Renaissance feels more fitting, especially considering Jonathan was initially kickstarted into creative mode by The Deposition from the Cross, painted by the Italian mannerist artist Jacopo Pontormo in Florence 1528, which depicts angels in their sumptuous, colourful drapes. All of them look a bit hysterical, mouths agasp and heads tilted back. And when you think about it, angels are kind of like aliens, right? A handful of looks came with organically-curved, hammered-metal breastplates, made by a local craftsman in Paris and attached to the jersey, not dissimilar to the ones Claude Lalanne once made for Yves Saint Laurent. Were they armour? Mutation? Shields? Mottled mirrors? Reflective windows? Therein lies the beauty of this show — you can see what you want, interpret it as you will. And that's because it's not just clothes, but fashion at its best.
Follow i-D on Instagram and TikTok for more fashion.