Venkitesh Ramachandran is a photographer and IT professional based in India who noticed very few images of the Ladakh region of India are widely shared, and even fewer that feature the beauty of its winter months, likely due to the harshness of the climate which can get as cold as -18 degrees Celcius.
Ramachandran is a self-taught photographer who, dating back to 2010, initially was never serious about photography. But that changed after reading his first photography book, Understanding Exposure by Bryan Peterson. After reading how Peterson approached photography and becoming interested in different ways to capture an image, Ramachandran started to follow and admire the work or other photographers while he slowly and gradually put the pieces of knowledge together into his own personal mental kit.
"I made my first ever solid investment in a camera Nikon D750 in 2016," he tells PetaPixel. "Theoretical knowledge gained by then was put to practical use. For me, the best way to do that was by exploring places nearby. I have been traveling since then, at least 2-3 trips a year (my work allows only that much time off) mostly with family and also solo trekking trips to the Himalayas. For the past few years, I have been working on a theme "Road Less Traveled" a collection focusing primarily on unexplored and hidden gems within India."
As part of the search for those hidden gems, Ramachandran decided to take a photo exhibition to the Ladakh region of northern India, which is famous locally as one of the only areas that is suitable for real winter exploration in the area. He says that he visited Ladakh in the summer, but was keen to capture the landscape in photos during the winter.
"I have not seen many photos of Ladakh, especially winter shots, but I had a fair bit of idea on how the weather is going to be and what to expect thanks to my prior trekking experience in the Himalayas," Ramachandran says. "I really wasn't expecting glorious sunrise or sunset. I know the clouds are going to gloomy with a few optimistic colors here and there. So, I was more focused on mood expressions and the loneliness type of shot. This time I was lucky to add human element in some of the shots."
As noted, the region is one of the few in India that offers rough, winter landscapes. This offers unique opportunities for images, but at a cost.
"Ladakh in winter is harsh with temperature ranging between –5 degrees to -18 degrees Celcius (between 23 and -1 degrees Fahrenheit), but it offers a different view of mountain peaks and you need to embrace the cold and moody light: It's at its pristine best. The frozen lakes (which are rare in India) are something to behold. Most of the tourists don't go to Ladakh during winter due to these kinds of weather conditions and that makes this place very much less crowded and we get more time to explore and enjoy it uninterrupted. We landed at 11,000 feet and then moved up to 18,000 feet and finally settle at 15,000 feet for the last few days."
Ramachandran says that his standard kit for his trips is a Nikon D750 with a Nikkor 16-35mm lens, and a Tamron 24-70 and 70-200mm.
"I always carry an extra set of batteries and a travel tripod," he adds. "I don't use them much but I do carry circular filters in case I really need them."
When asked to talk about his favorite image from the expedition, Ramachandran said it was difficult to narrow it down as he is really happy with all of his photos, but notes that the ones with the human elements tend to be his favorite.
"I did like some of the shots with human element factored in, which is sort of a first-time experience for me. Few of them were extremely difficult to shoot, one being the last photo of the trip (the light trail shots leading into the mountain view)," he says. "It was extremely windy and even my steady tripod was giving up. With watery eyes and with my glasses on it was difficult to focus.
"Another tough shot was in Tso-Morri Lake, which was at an altitude of 15,000 feet. I was shivering and I couldn't take the hand out of my gloves to click the shutter. Typically, I prefer to take my shots on a tripod with live view and manual focus on, but this time I had to resort to handheld shots. The killer is not the air temperature, but the chilling wind which makes the breathing all the more difficult at the high altitude."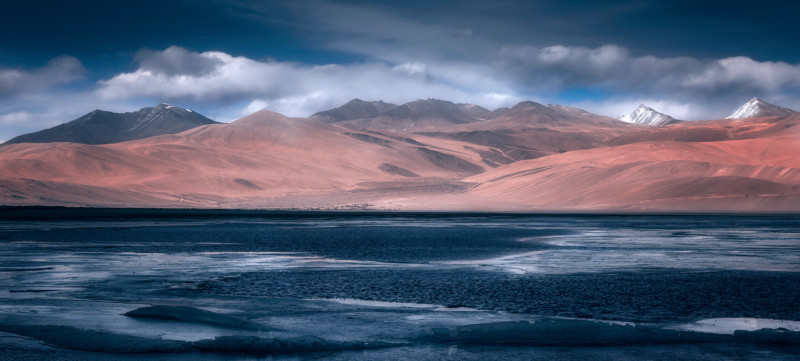 Ramachandran strongly recommends people visit the Ladakh region in the winter if the goal is to experience something different from the norm.
"I really want people to explore India as there are so many hidden gems. My advice: go well prepared as it is a very high altitude and oxygen levels are low. You need to be in good shape and wear at least four layers of clothes to keep yourself warm."
While beautiful, the region is not without its risks.
"Kids and elderly people should avoid this place in winter and if you have any chronic breathing problems then it's a big no."
For more from Venkitesh Ramachandran, make sure you follow him on Instagram and check out his other photo series on his website.
---
Image credits: All photos by Venkitesh Ramachandran and used with permission.