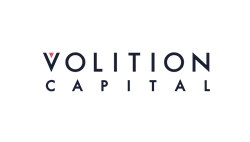 We're fortunate to have assembled such a remarkable group of battle-tested founders and executives and look forward to collaborating as we enter a new growth phase for our firm and portfolio companies.

BOSTON (PRWEB)
March 02, 2021
Volition Capital, a leading technology and consumer growth equity firm, today announced the launch of its first Strategic Advisory Board (SAB) that will provide focused guidance to the firm and its portfolio companies regarding strategic direction, investments, executive hiring and development, due-diligence, network and operational strategy, among other areas.
To support a growing portfolio and firm, Volition engaged a new set of visionary business leaders as part of an ongoing commitment to provide founders with the tools, resources and partnership required to navigate hypergrowth and achieve scale. The SAB consists of a team of seasoned founders and executives from some of today's most successful and innovative software, Internet, and consumer companies.
"Our mission is to not just make investments but a meaningful impact on our founders, portfolio companies, investors, and the world around us," said Larry Cheng, Managing Partner at Volition Capital. "A core part of that mission includes supporting founders across their entire entrepreneurial journey. The combined wisdom of this board will be an invaluable resource to us as a growing firm and to our portfolio companies rooted in a shared aspiration for greatness."
"Helping founders pursue their dreams without risking them has been a Volition Capital guiding principle from the very beginning," noted Managing Partner, Sean Cantwell. "This requires taking a measured approach to navigating the challenges of being a growth-stage company, and often, the best insights come from people that have already traveled that path to tremendous success.
"We're fortunate to have assembled such a remarkable group of battle-tested founders and executives and look forward to collaborating as we enter a new growth phase for our firm and portfolio companies," added Managing Partner, Roger Hurwitz.
The advisory board will provide support, guidance, and mentorship to Volition Capital and its portfolio companies as they navigate through the entrepreneurial journey. The SAB's inaugural members bring a wealth of combined founder and C-level functional expertise, as well as industry knowledge that will be invaluable as Volition maintains its core investment focus on a small number of high-growth, principally bootstrapped companies with tremendous upside, proven business models and a history of capital efficiency.
Inaugural members include:
Blake Day, Co-Founder and Former Chief Technology Officer Of Chewy, Inc.
Michael Blake Day is the Co-founder and former Chief Technology Officer of Chewy, Inc. He founded the company with Ryan Cohen in 2011 and rapidly grew the business to become a market leader in the pet industry. Chewy now trades on the NYSE with a market cap of ~$45B and is one of the most valuable e-commerce companies in the world. Today, Blake focuses on his personal investments in both public and private markets.
Raul Fernandez, Vice Chairman of Monumental Sports & Entertainment
Raul brings 30+ years of experience scaling innovative technology companies, including Proxicom, an interactive agency that developed custom-tailored interactive and web-enabled solutions for Global 1000 organizations. Raul is currently Vice Chairman and Owner of Monumental Sports & Entertainment, a private partnership which owns some of Washington DC's major sports franchises including the WNBA's 2019 Champion Washington Mystics, the NHL's 2018 Stanley Cup Champion Washington Capitals, the Washington Wizards, and Wizards District Gaming NBA 2K team.
Karen Flathers, Chief Customer Officer at Blackline
Karen is currently Chief Customer Officer for Blackline, where she led all post-sales customer functions through a successful IPO, multiple acquisitions and significant domestic and international growth. Prior to joining Blackline, Karen worked in Services and Operations leadership positions at Zuora, a provider of SaaS-based billing software and as General Manager at Aclara Technologies, a provider of SaaS and on-premise solutions to the utility industry. Previously, Karen served as SVP of Services for North America at SAP where she managed 1500 consultants and a $1 billion P&L.
Anna Griffin, Chief Marketing Officer at Smartsheet
Anna Griffin is the Chief Marketing Officer at Smartsheet. She brings more than two decades of experience in senior marketing roles and was most recently Chief Marketing Officer at IEX Group, a disruptive trading exchange for U.S. equities. Prior to IEX Group, Anna spent five years at CA Technologies as Senior Vice President of Corporate Marketing, where she led a global rebranding effort. Before CA, she served for five years as Vice President of Global Marketing at Juniper Networks. She has been awarded two Golden Effies, four Best B2B Campaigns of the Year, the Edgar R. Murrow Award for Digital Media, and was named 2016 Advertising Women of New York's Game Changer and Moves Magazine Power Woman 2018.
Mindy Grossman, CEO of WW International (Formerly Weight Watchers)
Mindy is a disruptive leader with 38+ years of experience in building and transforming consumer brands. Mindy joined WW (Formerly Weight Watchers) as President and CEO in 2017. As CEO, Mindy leads thousands of employees in ten markets to serve the millions of WW members around the world. In Mindy's first year at WW, the company saw an increase of ~1 million members and has reached a record high member retention rate of over 10 months. Mindy spent nine years at Ralph Lauren Corporation and six years as the Global VP at Nike, before becoming CEO of Home Shopping Network, which she took public in 2008. Mindy currently serves as Vice Chairman and member of Board of Directors for UNICEF USA and is a member of the Board of Directors of Fanatics, Inc.
Sam Hall, Chief Product Officer at GrubHub
Sam Hall serves as chief product officer at Grubhub and brings deep experience and leadership to his role executing Grubhub's platform strategy and expanding its product vision. Prior to joining Grubhub, Sam was chief product and technology officer of ClassPass, leading the company's engineering, product and design teams. Previously, he spent nearly 10 years at Amazon, serving as vice president of consumable customer experience and vice president of mobile.
Paul Melchiorre, Former President of iPipeline, and Former CRO & CCO of Anaplan
Paul is an independent director at R3, an enterprise blockchain technology company, and was previously an independent director at Scout RFP, a sourcing and procurement software company that was acquired by Workday (NASDAQ: WDAY). Previously, Paul served as Global Customer Officer and Chief Revenue Officer at Anaplan and was also President of Life Insurance Software company iPipeline from 2012 – 2015.
Lynne Oldham, Chief People Officer at Zoom
Lynne is a successful global Chief People Officer and business leader with 20 years of progressive experience in strategic HR leadership and key talent acquisition in various industries, driving profitable growth strategies for startups, private and public companies, and international organizations. She is currently Zoom's Chief People Officer, joining just prior to IPO, and navigating continued business scaling, employee engagement and safeguarding culture through COVID and the racial/social unrest of 2020.
Cathy Polinsky, Vice President of Engineering at Shopify
Cathy is a technology executive with 20+ years of industry experience. She recently joined leading omni-channel commerce platform Shopify as the VP of Engineering. Prior to that she was the Chief Technology Officer at Stitch Fix. She joined in 2016 prior to the Stitch Fix IPO and led the Engineering, Product and IT organizations through rapid growth. Prior to Stitch Fix, Cathy led a variety of engineering organizations and initiatives at Salesforce. Cathy is a member of the Operator Collective, and Board Member for Aetion.
Niraj Shah, Co-Founder and CEO of Wayfair
Niraj Shah co-founded Wayfair with Steve Conine in 2002 and the pair grew the business to become the largest online retailer of home furnishings, housewares and home improvement goods in the U.S. Before founding Wayfair, Niraj served as CEO and co-founder of Simplify Mobile, an enterprise software company which was sold in 2001. Prior to that, he served as Entrepreneur-in-Residence at Greylock Partners, COO and a member of the Board of iXL, and the CEO and co-founder of Spinners, which was sold to iXL in 1998.
JD Sherman, CEO at Dashlane and Former President and Chief Operating Officer at Hubspot
JD is the current CEO of Dashlane and former President and Chief Operating Officer of HubSpot, where he worked from 2012 until July of 2020. JD helped to lead the company through its IPO in 2014 as well as its post-IPO growth, reaching almost 4,000 employees worldwide and $900 million of revenue. Prior to HubSpot, JD spent six years as Akamai's Chief Financial Officer. JD currently serves on the Board of Directors of Citrix. He served on the Board of Fiserv from 2015 to 2019, as well as the Boards of Cypress Semiconductor from 2010 to 2015; 3Com from 2008 to 2009; and AMI Semiconductor from 2007 to 2008.
Shauna Spenley, President of Entertainment at Riot Games and Former VP of Marketing of Netflix
Shauna Spenley is the President of Global Entertainment at Riot Games, where she manages music, animation, film, television, 3rd party games, and consumer products. Prior to joining Riot Games, Shauna was the Vice President of Marketing and Publicity at Netflix, where she spent 15 years in various roles. Shauna led North America Marketing strategy and creative development for English language content that launched from 2013-2020. Shauna has also worked at the WB Television Network, CBS Outdoor, Fox Entertainment Group, and Creative Artists Agency.
Vince Thomas, Founder and Former CEO of Billhighway
Vince is Chairman of Highway Ventures and lead investor of StandUpDetroit, a group of Detroit-based investors who are passionate about business. In 1999, Vince founded Billhighway, an enterprise-level cash management, accounting, and payment processing platform for member and donor-based organizations. As the Founder and CEO of Billhighway, Vince grew the business to over 6,000 clients and $18 billion in annual payments transactions across North America. Vince owned Billhighway for 18+ years before it was acquired by First Data Corp in 2017.
Julie Wainwright, Founder and CEO of The RealReal
Julie is an e-commerce pioneer who founded The RealReal in 2011, bringing authenticated luxury consignment online. She has changed the way people buy and sell high-end luxury items across all categories and is helping create a more sustainable future for fashion. Wainwright took The RealReal public in 2019, built a membership of millions, and has sold millions of items to date. Wainwright has been at the helm of leading tech companies for more than 20 years, notably as CEO of Reel.com and Pets.com.
Tim Wallace, Strategic Advisor and Former CEO of iPipeline
Tim is a Strategic Advisor to iPipeline and has 30+ years of experience in the software, service, and consulting industry. During his tenure, the company grew to be the largest provider of SaaS to the Life and Annuity industry and was acquired by Roper Technology in 2019. He is a member of the American Institute of Certified Public Accountants and has served on the following boards: AccuWeather, BizEquity, FullTilt Solutions, Knova, MEDecision, Migo Software, NitroSecurites, Point.io, Serviceware, Snickelways, and XLConnect.
Volition Capital, founded in 2010, primarily invests in a small number of founder-owned, capital-efficient businesses that aspire to lead their markets. The firm's portfolio spans software, Internet, and consumer sectors with current investments including Arteza, Assent Compliance, Burst Oral Care, ButterflyMX, Connatix, GRAX, LoanLogics, Medly Pharmacy, Recycle Track Systems, Securonix, and Tracelink, and has produced notable exits including Chewy, GlobalTranz, Insite Software, iPipeline, Velocify, and VisualIQ. For a full summary of portfolio companies visit: https://www.volitioncapital.com/portfolio/.
About Volition Capital

Volition Capital is a Boston-based growth equity firm that principally invests in high-growth, founder-owned companies across the software, Internet, and consumer sectors. Founded in 2010, Volition has over $1.1 billion in assets under management and has invested in over 30 companies in the United States and Canada. The firm selectively partners with founders to help them achieve their fullest aspirations for their businesses. For more information, visit http://www.volitioncapital.com or follow us on Twitter @volitioncapital.